ASX Investor Newsletter
As I mentioned last week, I was included in the September edition of the ASX Investor Newsletter – you can read more here.   It was all fairly basic stuff but might be worth a read for you.
ASX200
The ASX 200 has enjoyed a solid week rallying higher and it has returned back to the present key level of 5400, threatening to move higher.
Interestingly, if you check out the advance decline line for the index (shown below in black) you will notice it is currently higher than it was when the index was meeting resistance last time at 5400 back in May / June.
This indicates that more stocks are travelling well compared to back in May and June and this might be backed up by the recent history of all times highs vs lows.
This week the reading is 12 / 3.  There were 12 stocks in the top 500 that achieved new all time highs this week, with 3 at new all time lows.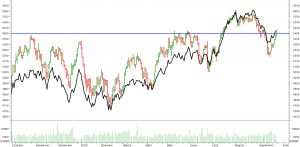 Image from MetaStock
AUD/USD
Just as I wrote last week, the 0.7650 level remains key for the Australian dollar and sure enough it has rallied well this week only to run into stiff resistance around 0.7650.   The more this level offers an obstacle to higher prices. the more it is likely to continue to influence bulls.
Over the last few months the AUD/USD has traded mainly between 0.7500 and 0.7750 and therefore established a trading range which will have observers watching for which side breaks and where the next big move will be.
I stand by my previous comments that I see limited upside as the resistance around 0.7750 seems clear and earlier last week the AUD/USD rallied strongly but was sold off just as strongly from above 0.77.
As I type this it is trading just under the key level of 0.7650 around 0.7635.
Articles