Season's Greetings
I want to wish you Season's Greetings and a Happy New Year!   This is a great time of the year as everyone thinks about spending time with family and friends.
I hope you enjoy some time away from work and the markets and have a great New Year!
I also hope you have a sensational 2018 and aim to become the best version of yourself – that is what I am aiming for.
Just before I go …
MetaStock Conference – 24 / 25 February 2018
My first speaking event for the year will be at the MetaStock Conference in Sydney on 24/25 February 2018.   Click below for more details …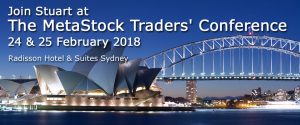 Again, Season's Greetings
Regards,
Stuart