Can I still use that expression?   A skipping CD perhaps?
It sure is appropriate at the moment.  Not much has changed since I last wrote, although I notice a lot of activity in the GBPUSD recently.
There really is nothing to see …. The ASX200 has done next to nothing all week although the ASX200 has eased a little to a two week low above 0.7550.
ASX200
The ASX 200 has traded within a narrow range all week – almost within 50 points.  It has been resting up against resistance around 5500 again and remained there for most of the week.
This week the highs / lows reading is 14 / 2.  There were 14 stocks in the top 500 that achieved new all time highs this week with the cheapest of these again being Skydive the Beach (ASX Code: SKB) – please be wary of the lack of volume in this one.  The highest price in that group is Credit Corp (ASX Code: CCP).
There were with 2 at new all time lows this week – Tiger Resources (ASX Code: TGS) and Horizon Oil (ASX Code: HZN).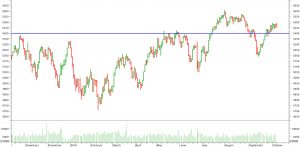 Image from MetaStock
AUD/USD
I know the Australian dollar hasn't done much the last few weeks however at least this week it has eased a little to a two week low around 0.7560.  There is clearly significant resistance around the 0.77 level as every time it gets anywhere near there, it is sold off reasonably strongly.  The more this level offers an obstacle to higher prices. the more it is likely to continue to discourage Australian dollar bulls.
Over the last few months the AUD/USD has traded mainly between 0.7500 and 0.7750 and therefore established a trading range which will have observers watching for which side breaks and where the next big move will be.  Even now it remains well within this range.
I stand by my previous comments that I see limited upside as the resistance around 0.7750 seems clear and earlier last week the AUD/USD rallied strongly but was sold off just as strongly from above 0.77.
As I type this it is trading around 0.7575.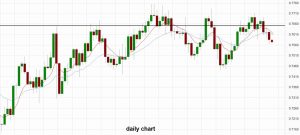 Articles