AUD/USD
The Australian dollar hasn't started the new week well falling sharply to below 72 US cents, however yet again this key level kicked in and provided the A$ ample support. This level has been significant for the last several months and continues to play a role. The question will be how much it can hold up as there seems to be significant bearish sentiment surrounding the A$ for 2016 with many expecting further strong falls throughout the year.
The 70 US cents level remains poised to prop up the local currency should the current support levels fail – a role it has performed very well for the last 6 months.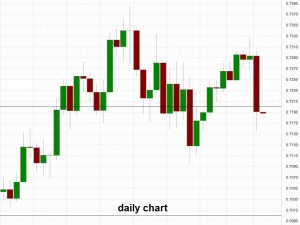 The A$ fell heavily after investors flocked to the US dollar as concerns grew about China and the year ahead for them. China stock markets started the week with a surge in volatility which rippled through to US markets overnight.
ASX Stocks
The ASX200 index continues to struggle at the resistance around 5400 as it has been turned away yet again and forced lower. With further declines expected early this week, the index continues to trade within the well established range between 5000 and 5400.
CSL remains the star performer amongst the ASX's largest stocks as it continues to climb steadily higher reaching yet another all time high. Brambles is trading near an eight year high although investors will be wary of the resistance level at $12.
Similar to the price of oil, Origin Energy and Woodside Petroleum continue to slide with investors wondering where the bottom is. They obviously won't fall to zero but many are speculating on what their lowest price may be in 2016.
BHP continues to loiter near multi-year lows whilst licking its wounds after a torrid 2015 which saw the share price nearly halve in value. Rio Tinto is in a similar position although fared a little better than BHP in 2015.